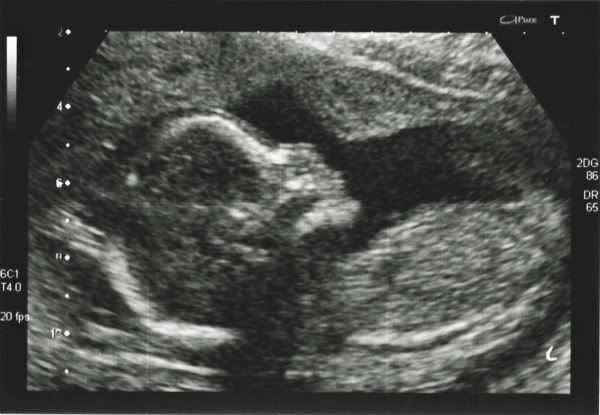 just kidding! :) today was our level II ultrasound with a perinatologist. very emotional day but the baby seems to be typically developing. the doctor didn't pick up anything out of the norm. while the ultrasound isn't 100 percent for picking up birth defects or disorders, we have chosen to stop there.
the doctor pointed out all the organs. i saw all four chambers of the the heart working well. two hands, two feet, one head. the feet are not clubbed.
little oliver is very active and a kicker just like his big brother. yes, in case you missed it henry is having a brother! ;) we were slightly hoping for a boy. i think it will be really good for henry, and us for him to have a brother. we haven't decided on a middle name yet. for a nickname we will call him "ollie."
this day has been 20 weeks in the waiting. well more so than that. we've stressed since henry was born. ;) i feel like we crossed a hump today and the next one will be when oliver is born. today was a huge sense of relief. this pregnancy has been exceptionally worrisome and stressful. but today is a gift from God. it's time to be excited and move forward. whatever comes our way, comes our way. but i feel much more confident that this baby will enter this world and i will hold him in my arms. it's all just surreal in a lot of ways. i can't explain it.
thank-you for all the support and prayers you've given us and i hope that you continue to keep baby oliver in your prayers.